Tired of an endless search for that elusive feeling of wellbeing?


Right now you're fed up with feelings of anxiety, stress, insecurity and low moods
The search for that feeling of wellbeing can seem overwhelming and never-ending
Wellbeing gurus tell you that this is something that has to be worked on but you're spending hours on self-care routines and haven't found anything that works consistently
You're tired of trying to manage your wellbeing
Imagine.....
Knowing that wellbeing is yours whatever's going on in your life
Being completely unfazed by any problem and trusting your ability to handle whatever life throws at you
Knowing that you can deal calmly with any stressful situation


Feeling deeply connected to the wise, intuitive part of you
Enjoying life more
Let me introduce you to
The Wellbeing Formula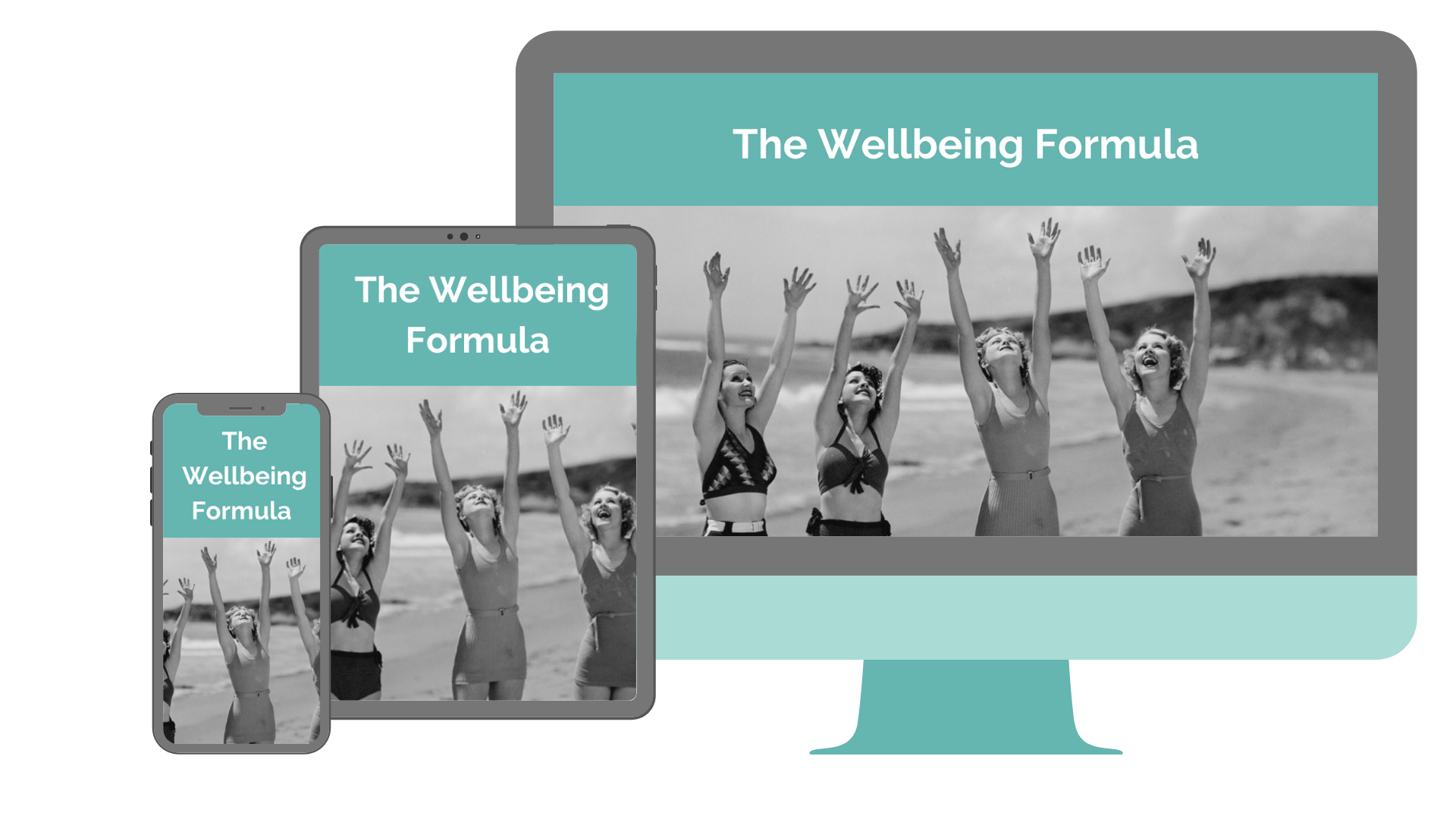 This is what we'll cover
The full potential and power we already have for wellbeing
What wellbeing really is and why this means we never have to fear losing it again


The top 5 places we are wasting our time looking for wellbeing and why it's never going to be found in these places.


The three foundations of wellbeing


The "hidden in full view" secret of where our experience of wellbeing really comes from


The top reason why we have fewer problems to sort out in life once we get this


Where you need to look for on-going creativity, inspiration, wisdom and guidance


Why no matter how we feel, there is never anything broken or damaged in us and that means wellbeing never deserts us
The three-step Wellbeing Formula is a short e-course with video and audio lessons and meditations
£19.99 (+vat) / approx $28 USD
Let me take you step by step, through
The Wellbeing Formula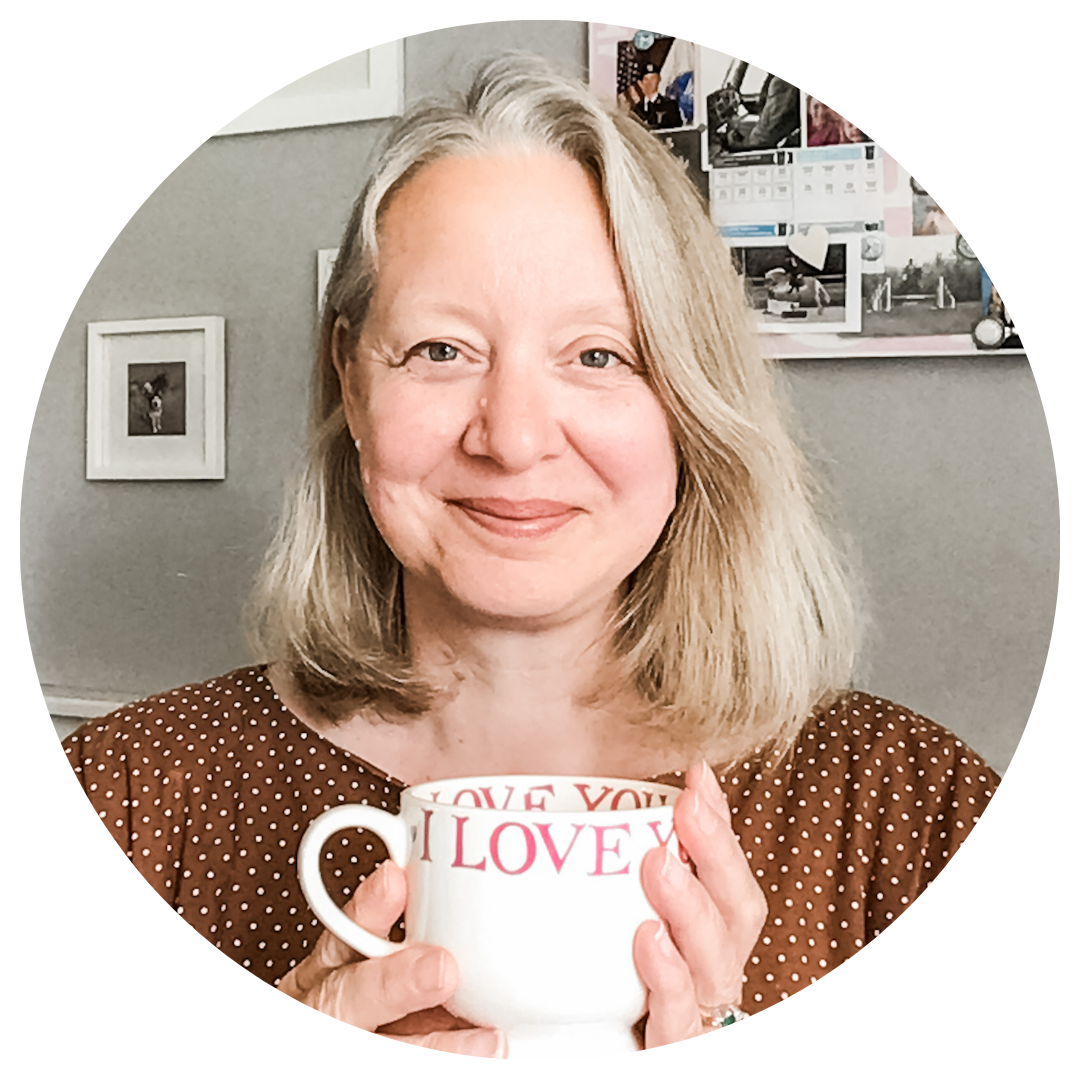 I was always such a worrier and anxious person.
Over the years, I'd tried virtually every wellbeing technique going. Meditation, deep breathing, yoga, "sitting on the sofa eating chocolate" (less well known to be honest) but I failed to find the peace of mind I craved and felt convinced I was on a "forever" journey.
After having my daughter, moving house and advancing towards the BIG 50 things started to fall apart in my mind. That's not to say, I went to get help or told anyone what was happening – I just kept on as usual.
But inside, I felt as if life was always going to be a slog and enjoying life, having anything remotely like contentment, was an impossible dream.
Then a couple of years ago, I came across a very different understanding of where our experience of life comes from and I was amazed by the difference it made to me.
The feelings of stress and worry fell away and I felt calmer and more optimistic than I had for years.
I found a new sense of wellbeing whatever the circumstances of my life.
And whilst yes, I still have my ups and downs – covid (for starters), family illness, yet another house move and all the day-to-day frustrations of life, I know, deep down know, that this wellbeing is always there.
I'm now delighted to be able to share what I have discovered with you.
.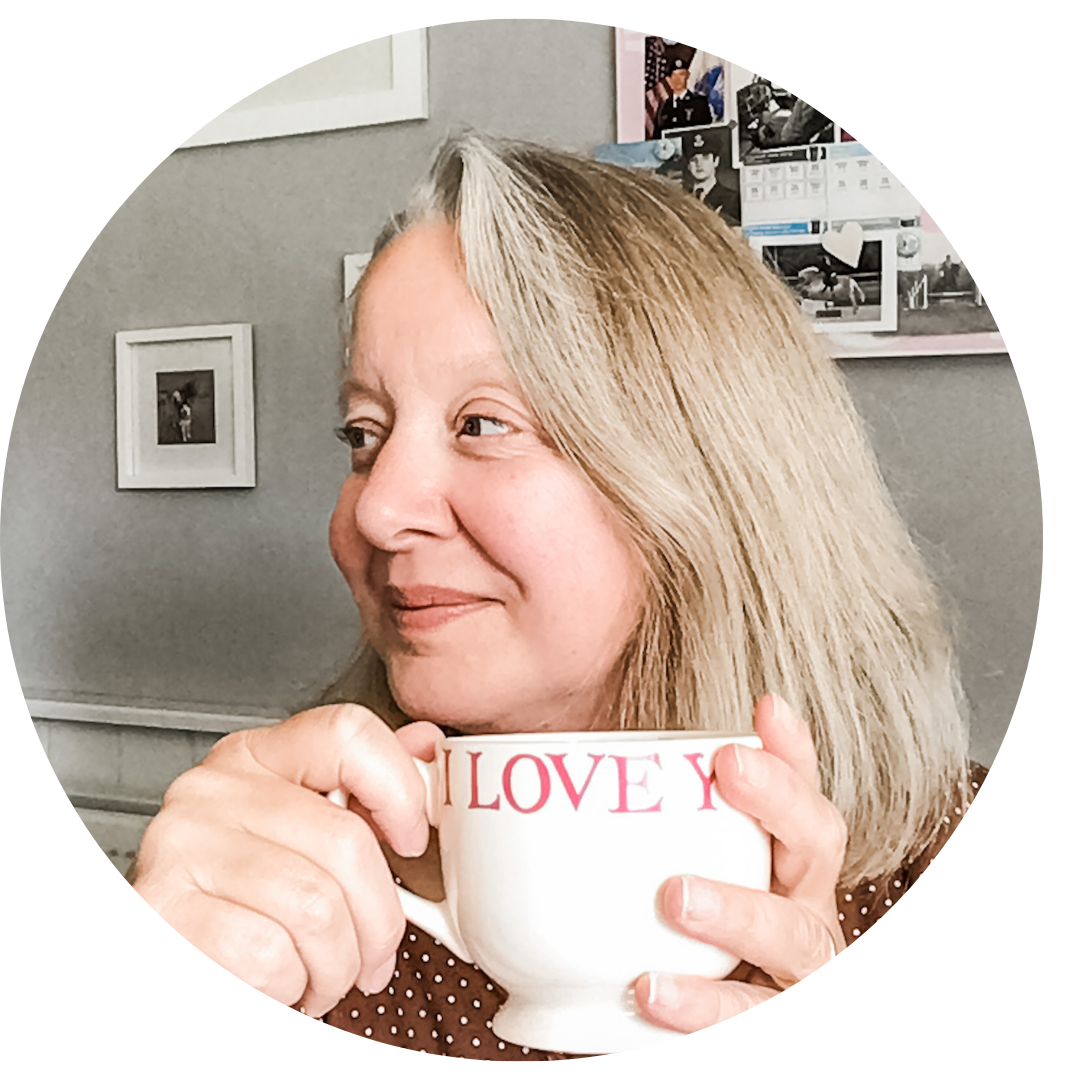 What lovely people are saying about the course

"This would be a wonderful course for anyone struggling to find inner peace and happiness - whatever their circumstances."
"The course was very useful and I came away feeling brighter and calmer."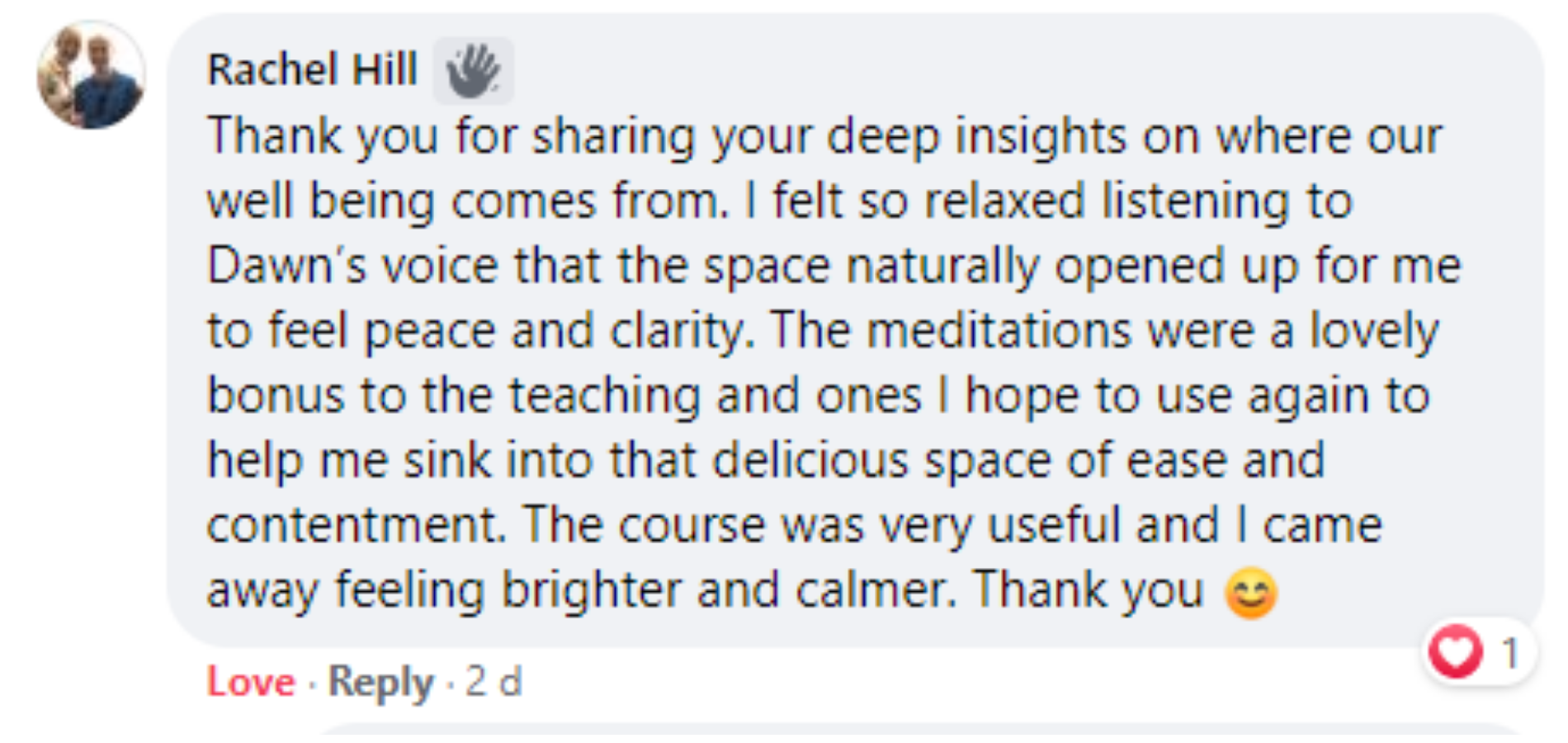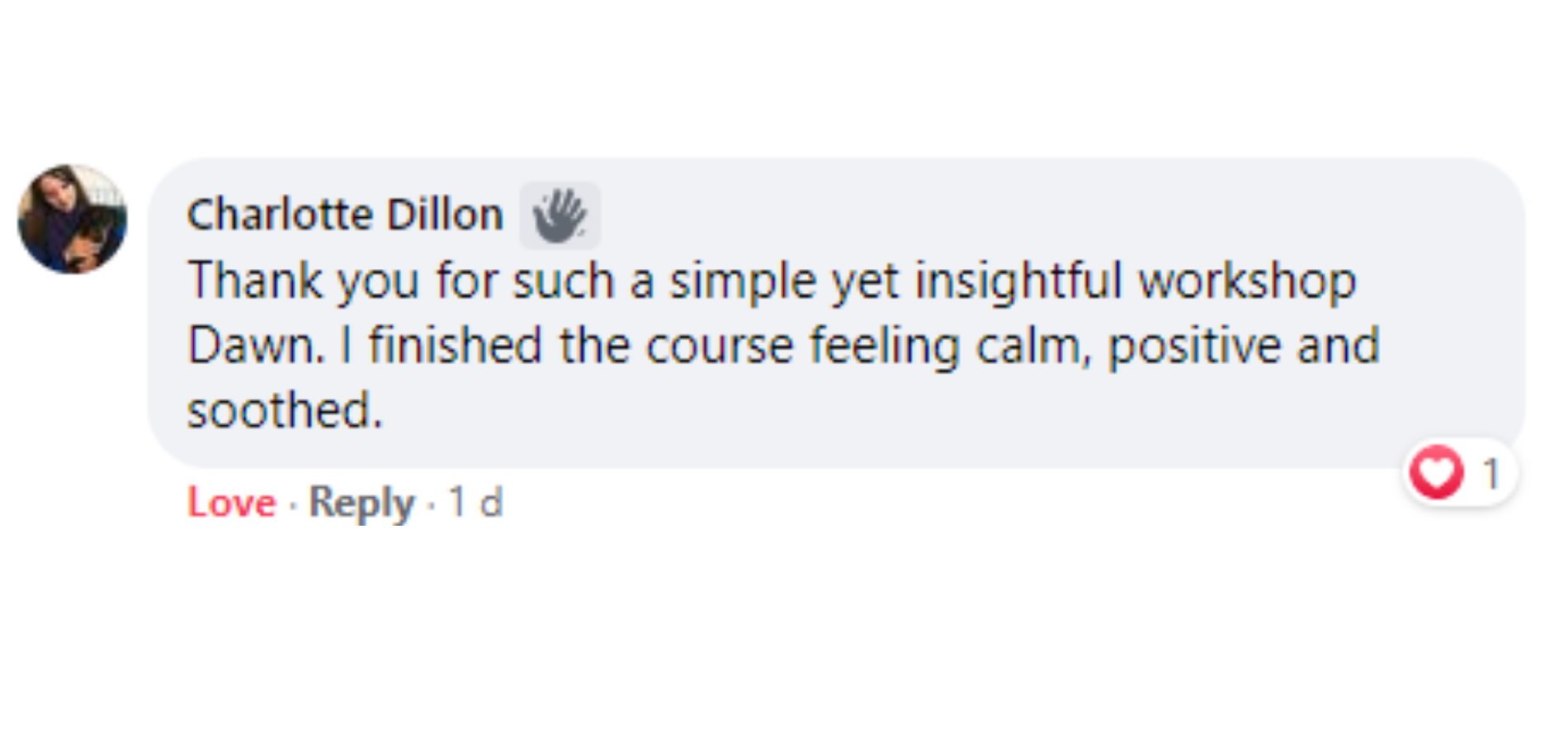 "I finished the course feeling calm, positive and soothed."


"I would highly recommend you to others who want to find their wellbeing with ease."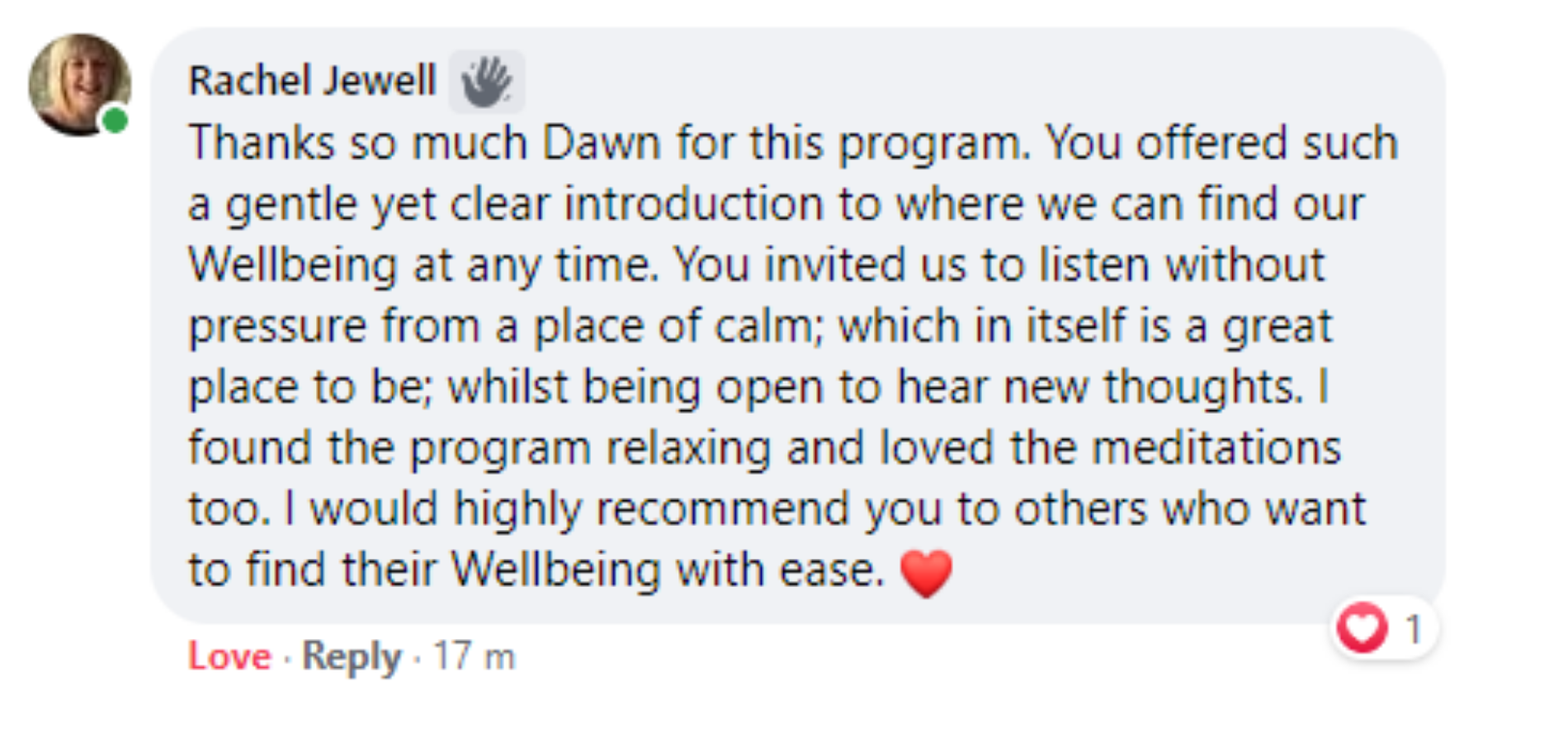 "I would highly recommend this course to anyone looking for clarity and understanding of where our well-being comes from."
The morning review meditation (9 minutes)
This meditation aims to set you up beautifully for your day ahead, whether you have a busy, frantic day or more relaxing plans. Help yourself dance lightly with the ebb and flow of your energy and respond to the challenges and changes of the day ahead with more ease.
The evening meditation (12 minutes)
Soothe your emotions, calm the mind and relax the body after a busy day. Let go of all the busyness and events of the day and prepare yourself for a deep, relaxing sleep.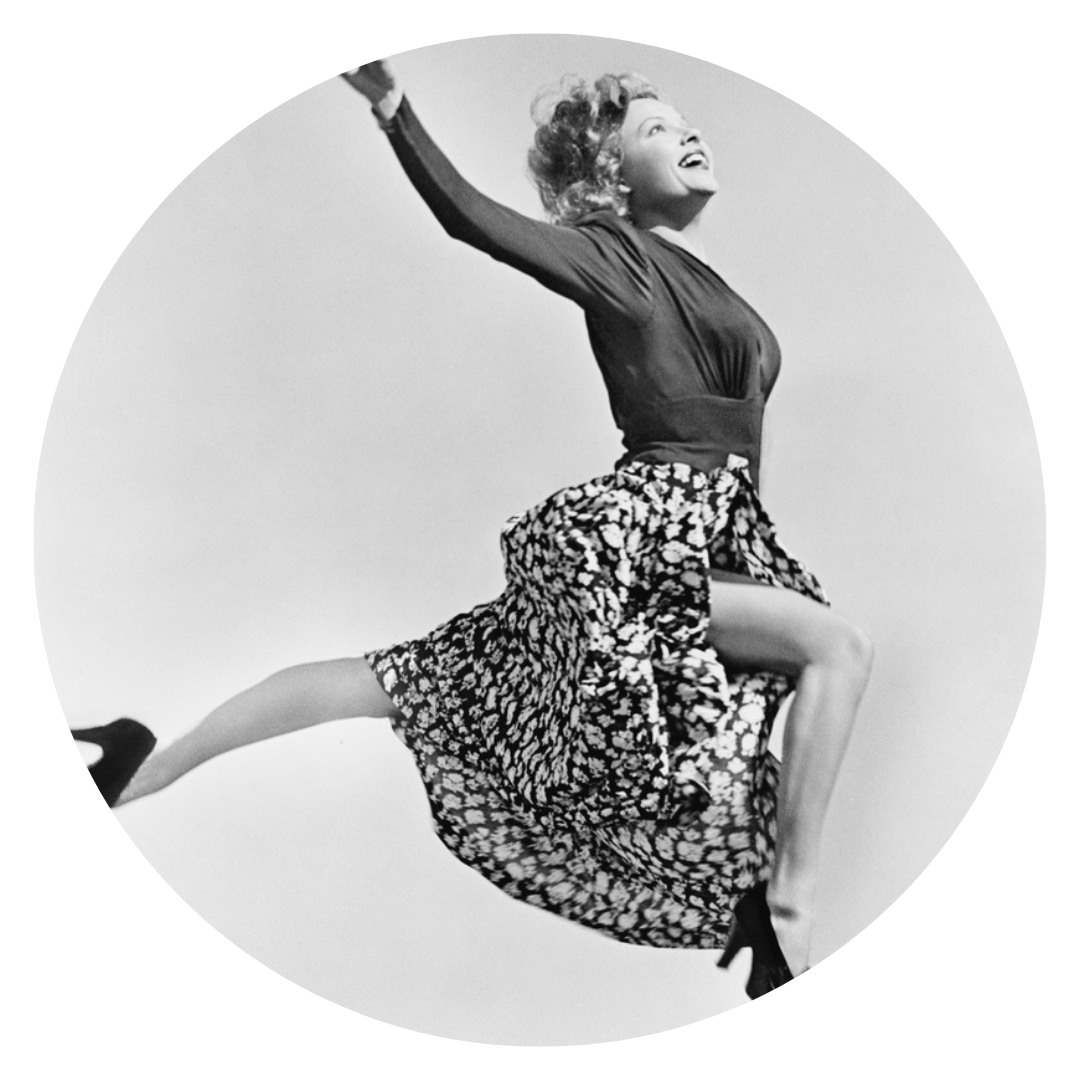 This is for you if:
You want to be able to tap into your innate wellbeing whatever life is hurling at you
You want to be able to feel more positive and secure in life without completing a long list of peace of mind techniques
You are willing to consider new ideas and experiment in your own life
You need a 1:1 coach or a therapist
You are happy to carry on completing a long list of daily "wellbeing" chores.
£19.99 (+vat) / approx $28 USD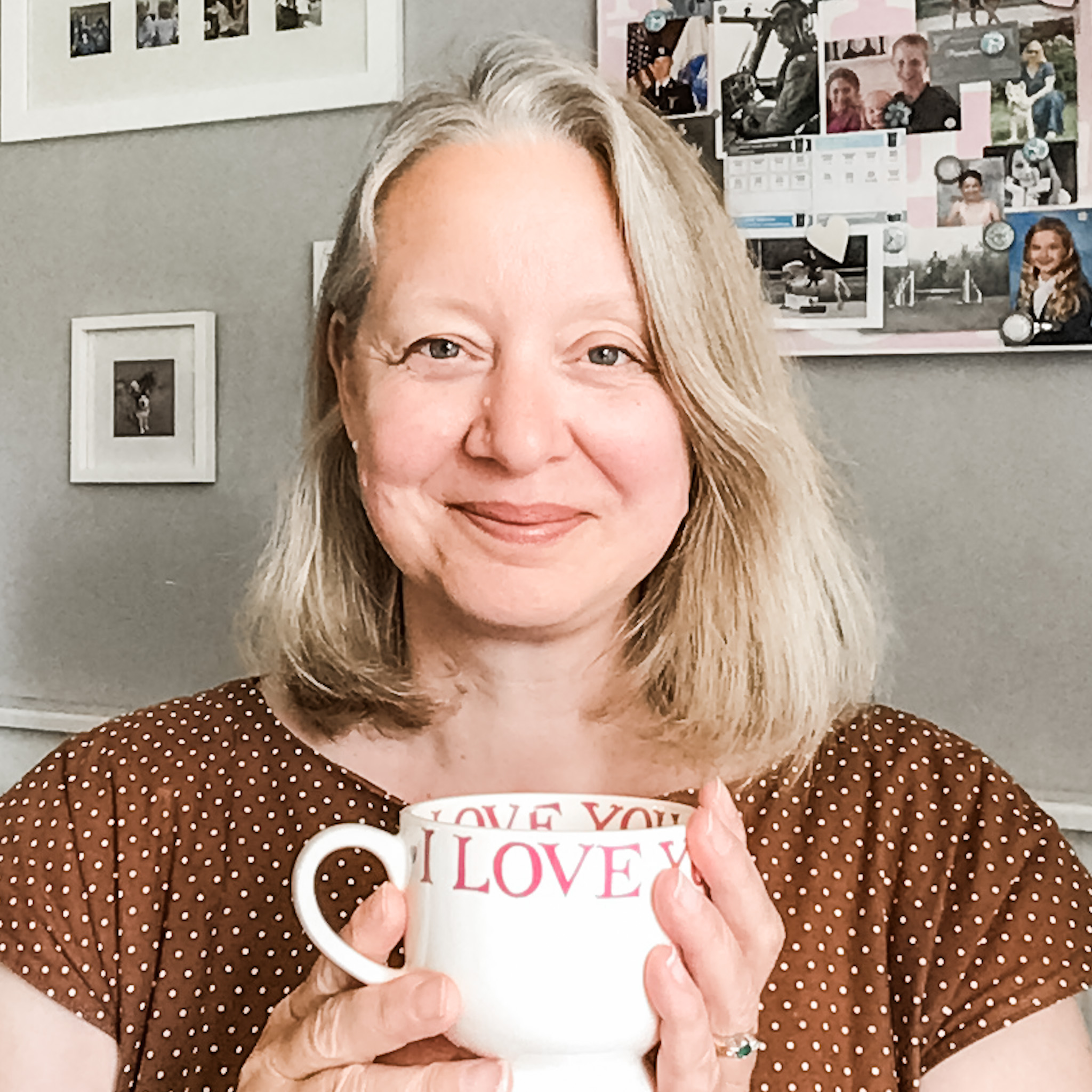 What I am covering in this course has transformed how I experience wellbeing. I have transformed from neurotic worrier into a very relaxed bunny who is able to get far more joy and fun out of life.
Last year during a potentially stressful time of covid, moving house and family illness, I felt calm and stress-free thanks to the formula I share with you on this course.
I spent over 15 years working as a management trainer in a variety of organisations so have had oodles of experience turning the complex into the straightforward.
What we cover on
The Wellbeing Formula
( just over 1 hour of content )